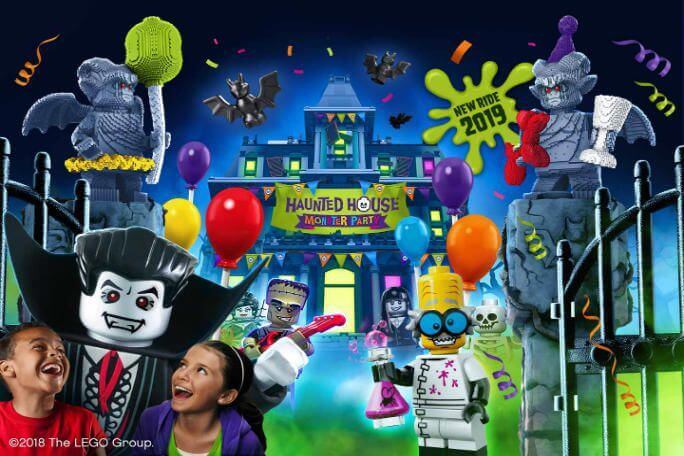 LEGOLAND WINDSOR
Spring 2019 will see the opening of a spooktacular new ride at the LEGOLAND® Windsor Resort; The Haunted House Monster Party.
Guests will be invited to join the frightfully friendly Vampire for a monster party at his spooky new haunted home to celebrate his arrival in the LEGOLAND neighbourhood. Young party guests will be greeted by joke-telling LEGO gargoyles and talking statues, LEGO bunting, banners and balloons.
Inside Vampire's haunted house, families will take their seats at a banquet table in a magnificent decorated hall, brimming with ghastly monster party food, cauldrons, potion bottles and goblets each made up of hundreds of LEGO bricks. Once sitting comfortably, Vampire will reveal his magical party trick, which will bring the banquet hall swinging to life, turning the room upside down and transforming before his party goers very eyes.
IMPORTANT INFORMATION
Individual lands are clearly marked by signposts around the resort and there are 2 large scaled maps located at The Beginning and the bottom of the Hill Train. The resort is steep in places, however a fun alternative to walking up and down the hill is to take the Hill Train. All pathways are suitable for wheelchair users and pushchairs.
Please exchange your voucher at the ticket desk. There is an advance/pre-booked ticket kiosk at the side of the main turnstiles that you will need to visit in order to exchange vouchers for tickets.
GET 241 OR UP TO 60% OFF TICKETS, ATTRACTIONS AND FOOD